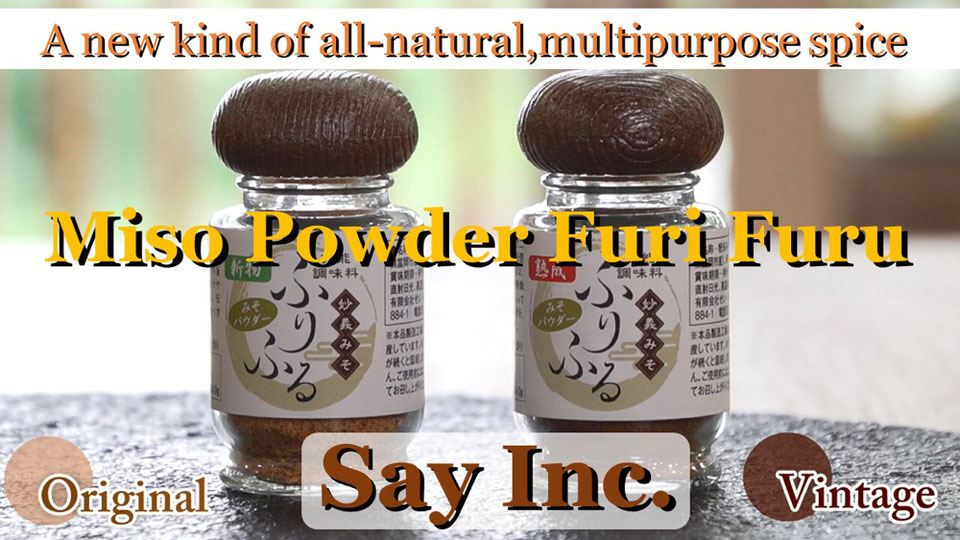 Say Inc. presents Miso Powder "Furi Furu"  A new kind of all-natural, multipurpose spice (3:22)

We grow soybeans using natural farming methods that meet the standards of organic JAS certification while preserving local farmland and protecting the richness of nature.

We recommend one for each family.

Miso is classic Japanese seasoning, usually comes paste. But here Say Inc. develop miso powder, sprinkle ante almost anything. It's all natural Plant-based, Glluten-free, Probiotic.

Miso is made of soybeans, koji(fermented rice) and salt. Just those three ingredients. 
After fermenting for about a year, the miso mixture looks like ready to eaten. 

Why I decided create dried miso powder?
Visitors can't take raw miso paste back to their countries on plane, so making a dry version the only way around that. Customers tell me that it's very versatile. They say they use it on literally anything—  
Just sprinkle it on at the end. It almost regality. 

We have Miso Powder Furi Furu Original miso, and Vintage.
Just a dash on top adds depth to the flavor of a dish. It's a great simple way to add a finishing touch to a dish. 

My miso powder does not contain any animal products. It's 100% plant-based. 
 I want to make something that's good for my own body, so I don't compromise on anything. 
You can use it in place of table salt.
Since it has a deep flavor of its own, you'll yourself wanting to use it more than salt anyway. So it's great for folks who want to cut back on sodium. The process for making the Vintage miso powder from starting to grow the beans to having the finished product takes up to 6 to 8 years. There's no one else willing to take long time to make this stuff!

Anyone who wants to take care of their appearance — to take better care of their appearance. 

Anyone who wants to be healthy. 

Anyone who wants to include probiotics in their diet. 

I think miso powder would appeal to all those people.

Pretty much anything, Tempura, Sushi, Ramen, Pizza, Pasta, It's fully up to you.

What was you sprinkle you miso powder on?